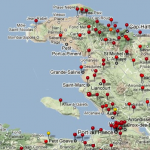 Since October, 1,400 Haitians have died from the cholera outbreak that is taxing the country's already fragile infrastructure. The 2010 Haiti earthquake killed 250,000 and destroyed large portions of Haiti's healthcare system, hospitals, government offices and other supporting organizations. Crisis Mappers are doing their part to help direct resources to the people and areas of most urgent need. The HealthMap-Haiti picture to the right shows the outbreak, which is most acute at Port-au-Prince, Haiti's capital and largest city.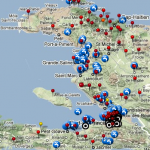 New cholera-specific aid is in progress, but channelling the aid is a practical concern. Since cholera manifests in severe diarrhea and kills by dehydration, setting up safe fresh water stations and educating people on how to combat the disease are of outmost importance. This HealthMap shows various categories of water stations and where they are located.
HealthMap and Ushahidi are based on new information technologies that enable people on the ground, aid organizations, and professional news reporters to construct real-time information networks in times of crisis. When the earthquake struck, the Ushahidi team enabled individuals with cell phones to report conditions on the ground, which helped to guide emergency aid because many traditional communication channels were down. HealthMap integrates various sources of crisis information with the same aim.
A similar effort is underway in Pakistan (Pakreport) following the severe 2010 summer floods, which have displaced millions of people by destroying entire cities. Like Haiti, Pakistan has a large portion of impoverished people, so when crisis hits, they are especially vulnerable to life threatening disease.
Valerie Amos, the U.N.'s Undersecretary-General for Humanitarian Affairs, said it would take time to solve Haiti's huge problems, stressing that even before the earthquake and the cholera epidemic the country's health and development levels were among the lowest in the world. (Reuters)